The Beatles
by Andy
August 17, 2015
Two Saturdays ago, a good friend celebrated his 50th birthday.  And when I say celebrated, he commissioned two of his all-time favorite Indie bands — Five Eight and Jon Dee Graham — to perform privately at a local restaurant.  I'd not heard of either band (no surprise there), but was joyously re-introduced to live-and-local music that simply rocked.  All songs were original, told wonderful stories, passionately played, and musically tight.  George Bradford, thanks again for the invite.
Before each band took the stage, George told a little story.  One regaled of his early musical influences, which for most of us was the Beatles.  Back then, we listened to our parents' collection of music as we had no money to buy our own records.  My parents had only one Beatles album and I played it over and over again.  It was the compilation Blue album.  I can still sing every word.
Back to George.  40+ years ago, George's parents bought Hey Jude on 45-rpm, that's how they released singles back then, and his family sang to it every day.  They sang it during car trips.  They sang it in the shower.  You could hear it hummed throughout the house.  One day, George wondered what lame Beatles song was on the other side (as all B-side songs were rarely any good).  So he turned it over and heard Revolution.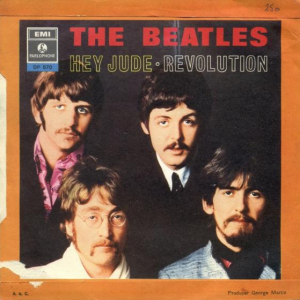 That changed EVERYTHING!
For George, it inspired a whole new understanding of what music can be.  How it can be played.  How it can shake your preconceptions.  How it can inspire.  Once seismically shaken like that, you start searching for more whether it's music or literature or food or love.  When one's passionate search finds and interprets a key insight, the ramifications can be transformative.
Transformations are what drive success.  Optimizing what already exists can certainly sustain a category (like glorious love ballads), but it's transformation that advances it.  Transform how you communicate and start your own revolution.
To get musically transformed, do what you can to see each of these bands live.  www.fiveeight.com and www.jondeegraham.com.
2 Responses to "The Beatles"
Today, 18 August 2015, is the 50th Anniversary of The Beatles one and only performance in Atlanta. That was a transformative event for many of the 50,000 people in the old Atlanta Stadium. It was also transformative for the band. It was the first time they ever performed with monitors (allowing them to actually hear themselves). What a great way to mark that golden anniversary! Great post, Andy!

Excellent post and analogy!
Leave a Reply